Apps are a wonderful invention. They enable us to carry everything we need in our pocket and use it on demand – wherever we are.
After doing some research, I discovered, there are some amazing apps, you can use as a singer out there. Whether you want to do some warm-up, record your voice or train your ears. There are apps for almost every need.
To help you in the rampant digital jungle, I checked out 8 free singing apps that make you a better vocalist.
1. Red Karaoke
Nice app for everyone who loves doing Karaoke or for practicing purposes. You can either sing along to the original song or go directly into Karaoke mode.
If you want, you're free to record your own version and share it with the Red Karaoke community. Funny extra feature is to use a recorded version from another member and sing a duet with him.
That's only possible if someone activates his record for duet mode.
If you decide to become a VIP member, you benefit from more features, such as video recording, but the free version is already very good and useful.
2. MyEarTraining
That's a great app. You got all key elements for proper ear training in just one program.
– Intervals
– Chords
– Scales
– Melodies
– Chord Inversions
– Chord Progressions
Additionally you can extend your skills in 3 other areas
– Rhythm
– Solfege
– Sing
I used the Earmaster Pro on a computer, when I worked on training my ears some years ago. MyEartraining though seems like a great fit for the smartphone.
If you master this program, I'm sure you will see astounding results in your pitch singing.
There's a course feature, where you can build the training up from bottom to top and track your progress. Moreover, you get an "Exercise of the day", that keeps you surprised.
It is really a great app to improve your ears and eventually sing better on-key.
Highly recommended!
3. Vanido
Vanido is one of 3 apps I cover, that help you work on your singing.
First off, your vocal range and voice type (bass, baritone, tenor, mezzo, alt, soprano) is determined. You can set an alarm clock for daily practice. To actually start the singing lessons, you have to sign up (at no costs).
Basically, there are 3 different exercises every day. Starting with chest voice, head voice and -what they called- foundation. An ascending scale through your registers.
You can listen to all exercises in only-piano style or as an example how it's supposed to be sung. I should mention here, that the exercises are not for completely beginners, but more advanced intonation stuff.
After each exercise, you get an instant review of your performance, graded in Vani XP (whatever that means). One of Vanido's services is to send you a daily notification about a new exercise.
You can also use Apple Music or Spotify to connect to practice songs. If you want to get immediate access to all exercises, you have to subscribe for 3.99€/month or 24.49€/year.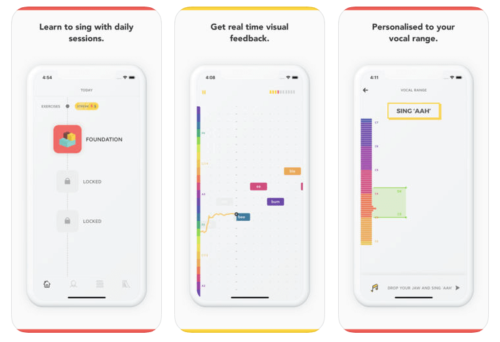 Pros
– Good Warm-up
– Piano play-along is beneficial
– Scheduled, personalized exercises that are tailored to fit your voice range keeps you motivated
Cons
– Doesn't teach you anything about vocal technique though
4. Vox Tools
Vox Tools is a great and comprehensive vox trainer for different situations.
The main features are:
Trainings
– Release
– Chest Voice workout
– Vibrato
Warm downs
– Assimilating training (when voice is tired)
– Express warm down
Warm Ups
– Daily Warm Up
– Morning Warm Up
Every exercise is first demonstrated, so you can hear, how it should be done correctly.
You can also make a free training, where you can set the range of notes, starting note, tempo and the octave range of the exercise. Furthermore, you can choose, if you'd like to sing ascending or descending scales.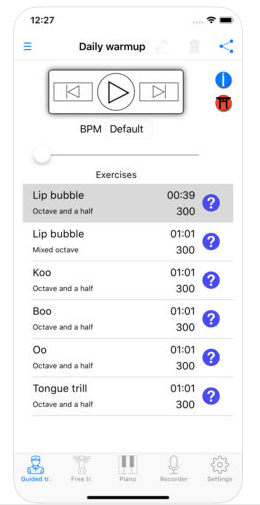 Pros
– Large variety of exercises
– Demonstration, how it should be sung
– Guided or free training sessions
Cons
– No guidance on vocal technique
– No training schedule
– Can't record your sessions
– No progress tracking
5. Sing Sharp (now: Perfect pitch)
What's really outstanding about Sing Sharp aka Perfect Pitch is the graphical design of the app.
It looks like, they worked hard to make it attractive for their users.
What's inside? You can break it down into two different features.
1) Warm ups: You can choose between 4 different free programs (starter, stretch out, delightful, bouncy). The exercises come close to how it's done in a private singing lesson, accompanied by a fluently played piano at a good pace.
2) Sing Songs: There are some free songs in the library (e.g. Amazing Grace, Greensleeves). However, the majority of the songs have to be purchased via Apple Music. When you sing along the instrumental version of a song, you can watch, if you are on key. At the end you see your score from 0 to 100.
Pros
– Very useful for warm ups
– If you're subscribed to Apple music, you will get a lot of practice songs
Cons
– Very annoying ads in between the exercises
6. Voice Record Pro
I've been using this app for 5 years now. It's super useful to catch a fresh song idea or record some singing practicing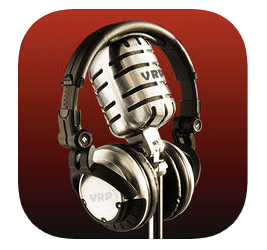 . What I especially like best about Voice Recorder Pro
1) It plays back with a decent audio quality. A very balanced sound for a free smartphone app.
2) You can immediately share the recording with someone else (e.g. band member, vocal coach, producer).
3) The trim effect: If I record a longer section or repeating versions of a song, I can cut the track and only keep the best parts for further songwriting.
You also have the opportunity to put some effects on the track, such as reverb. A feature I never use, but it's nice if you want to play around with it.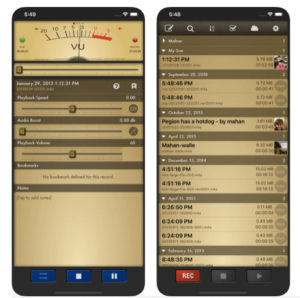 7. Tone Generator
Using the Tone Generator is pretty simply.
You set the frequency and the app generates the tone. It Comes in handy, if you need to start acapella or to practice at the right pitch, when you don't have any instruments in place.
The only tricky thing is to know the accurate frequency of each note. Don't worry – you can look it up fast and easy HERE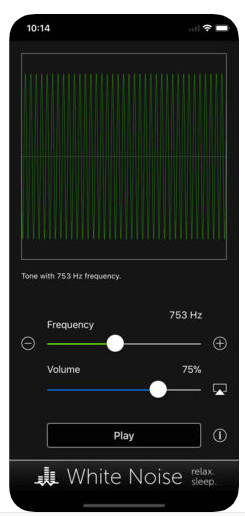 8. Guitar Tuna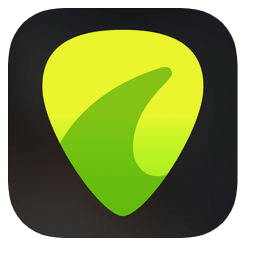 For all singers, who also play the guitar, Guitar Tuna is a great choice for your instrument.
It's quick, it's accurate and easy to use. And it's free 🙂
Though you have a bunch of other features, such as a metronome or educational games, I basically only use the automated tuning function.
Conclusion
There are some really useful singing apps on the market, that all come for free. If you want to keep improving your voice without spending a dirty dime, take advantage of them and enhance your skills.
Felix Cerny