There are many people, who love to sing and play around with the idea taking singing lessons. However, only few dare to make the first step and move towards their dreams.
Why so?
I know from my own experience, that reaching out and seeking help to become a better singer is a highly sensitive affair. Without better knowing, people think that a professional voice training is of a too high level and needs some kind of entitlement.
On the other side, taking the opportunity to be trained by a professional vocal teacher can be a real game changer in your abilities and career.
Let me shed some light on this subject and teach you 6 things that definitely won't happen in adult singing lessons.
1. You Won't Be Laughed At
I know that this a one of the most common concerns around people, who consider taking singing lessons. It goes hand in hand with number 6 of this list – already having a great voice.
Actually, it was also something that spun around in my head before hitting my teacher's door mat for the first time. What if he wants me to sing and then burst out in laughter, because I sound so horrible and he only asks me, if I'm serious about this?
Or what if he thinks I'm joking, because I had to blow out over 30 candles on my last birthday.
First off, it's totally normal to have such thoughts when you're unsure of your own voice. Or maybe someone told you, that you sound like a dying cat or that you're too old for a singing career.
Don't worry my friend, I can guarantee you, that this will never happen.
From the bottom of my heart I can tell you, that every single voice on this planet has something a good teacher can work with. When you sing your first song, he will not listen to your flaws, but to your best parts, where your voice already has substance.
2. You Won't Get It For Free
I know, we live in a free world – literally. The internet has become a fantastic resource and a place of infinite free education. And that's a good thing.
There are some free online singing lessons available on Youtube. From my point of view, they are a good start to get an impression, how vocal training works.
Nevertheless, at the end of the day you will only really learn how to sing, when you hook up with a singing teacher. A one-to-one training is always the most effective way and the highest level of education.
That comes with a price. "How much is a singing lesson?", you might ask. Well, there are singing students out there, who give lessons for 20-30 $, but I wouldn't suggest you go for such a deal.
A teacher, who really knows, what he is doing and -even more important- how to teach it to others will usually take 60-150 $ per hour. There are few teachers, who offer a trial lesson, but the more sought-after, will have no need to do so.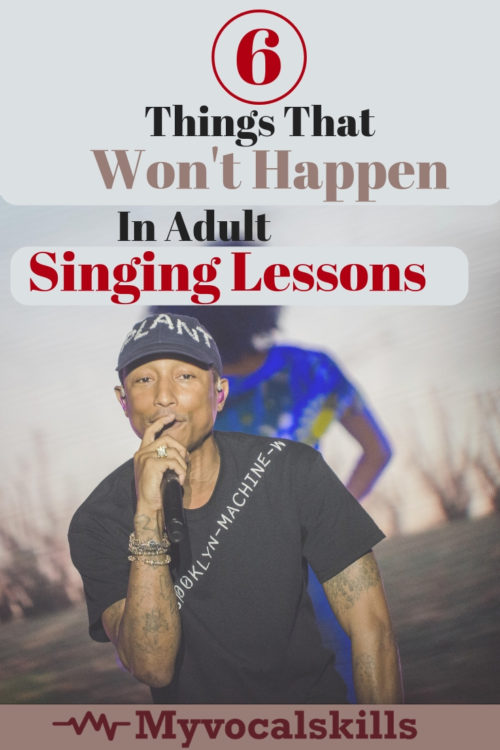 3. You Won't Work With A Wizard
Don't believe any "Sing like a star in 3 weeks" scam-claim, you probably know from online course ads. It's just not possible. Like in any area of your life, you can't expect a quick fix.
Learning how to sing the right way, needs a solid foundation. Depending on your singing level, your discipline and your ability to learn and implement new things, this founding can take months to years.
You have to first get rid of all your old bad singing habits and then build a new voice from scratch. Furthermore, your teacher is only able to show you the right way. He can't do the work for you.
The good news are: Once you've learned a solid technique, you will harvest the fruits of your labor for many, many years. It will become almost impossible for you to not sing just great.
4. You Won't Get Standing Ovations

Hands down, at some level we are all vain persons. It feels much better being acclaimed than being criticized.
However, your teacher's job is to make you become a better singer. You will only make progress, if you implement a new vocal exercise as perfect as possible. And he knows that.
So, instead of cheering every attempt you make, he will tell you what you did wrong and insist on doing it over again until you really got it. Sometimes, this can be a pain in the ass, but over the long haul, you will thank him.
5. You Won't Actually Sing That Much
One of the misconceptions of beginner singing students is, that they think, singing lessons are for singing songs.
Particularly in the beginning, a professional singing lesson consists of humming, lip-rolls and vocalizing. All technical stuff to inject a new way of singing and sound production into your brain and body.
And there's a reason for it. You can't achieve improved singing by just singing and make some minor adjustments. That's fine tuning after you have a rock-solid, bullet-proof vocal technique.
If you start out with voice training and do some corrective exercises and then sing a song, you will instantly fall into your old patterns and bad habits.
Muscle memory is an enormously powerful force. A force that you will soon harness for a repeating brilliant singing performance.
6. You Won't Be Expected To Already Have A Great Voice
Come on, don't hesitate booking your first lesson only because you think, you should already have something to show.
The thing is, that you have a reason for reaching out to a singing teacher. Chances are you currently only have a small vocal range and problems singing on key.
I resisted even making a call, because I genuinely thought, that I have to be entitled to work with a vocal coach. Later I realized, how this couldn't have been further from the truth.
The reality is, that you benefit even more from singing lessons, if you are a complete beginner. Why? Because you are much more open for a new system.
Students, that show up with a trained voice will often stick to their old system (even if it didn't really work out for them), because they know it and they feel safe.
Think about it: Almost everything that seems to be a disadvantage, if seen in a new light, can turn into an advantage.
Basically, there are other qualities you should bring to your voice lessons, such as discipline, patience and a good portion of humor. Don't take it too serious – music should be fun.
Voice teachers love to work with eager students, who follow their lead. That brings the fastest results and feels most rewarding to both student and teacher.
Conclusion
Unfortunately, there are still some misconceptions about private singing lessons, which are simply not true. I've listed six common beliefs, that won't happen in adult singing lessons.
1. Being laughed at
2. Trial Lessons
3. Getting a quick fix
4. Being praised
5. Singing songs
6. Show up with a great voice
If you have the right idea, what will and what won't happen in a singing lesson, gives you the proper mindset to fully benefit from this great opportunity. If you still have doubts, leave me a comment or drop me a mail.
What about you? Already had a singing lesson? Share your experiences or expectations with me.
Rock on
Felix