Product: Earmaster 7 Professional
Best for: Singers, musicians, audio engineers
My Rating: 9.8 out of 10
The Earmaster 7 Pro, Product Overview
---
When it comes to singing, many vocal peculiarities will be excused or even appreciated by your audience. You can sing with a shrill, squeezed or a whining voice. You can push for high notes, mumble and screech. But there is one thing, you can't turn into something appealing: If you sing out of tune, your performance sucks.
Besides working on your vocal technique, there's no way around training your ears. It's a certain route that forwards the signal from your ears to your brain and further to your vocal chords. If there's something wrong at the beginning, you can have perfect vocal skills, but you still will sing off-key.
Earmaster – #1 in music education software
The Danish company Earmaster has been around for more than 20 years. Their goal is to provide simple and easy tools for improving musicians" ears and musicality. I've been a fan of their products since the very beginning and always found working with Earmaster not only very effective, but also damn funny.
Earmaster 7 Pro – Exciting and Playful
Their product, Earmaster 7 Professional is an enhancement of the earlier versions, comprising over 2.500 lessons, created by music teachers from renowned music schools. Starting with a Beginners Course, you can further join a General Workshop and a Jazz Workshop.
Besides a complete and thorough music theory course for absolute beginners, one of the best advantages of Earmaster 7 Pro is its interactivity. Working on your ear training you are asked to hear, sing, clap your hands and make notes.
Earmaster is a programme that puts music theory into action. No matter if you sing or play the guitar, your music will always benefit from training your ears and your musicality.
What will you learn?
From my experience, the key to better ears is training identifying intervals and chords. I don't know how it exactly works in the brain, but it was amazing for me that, by repeating exercises over and over again, I was suddenly able to distinguish between a sixth and a fifth. Something I couldn't do, when I first started with Earmaster.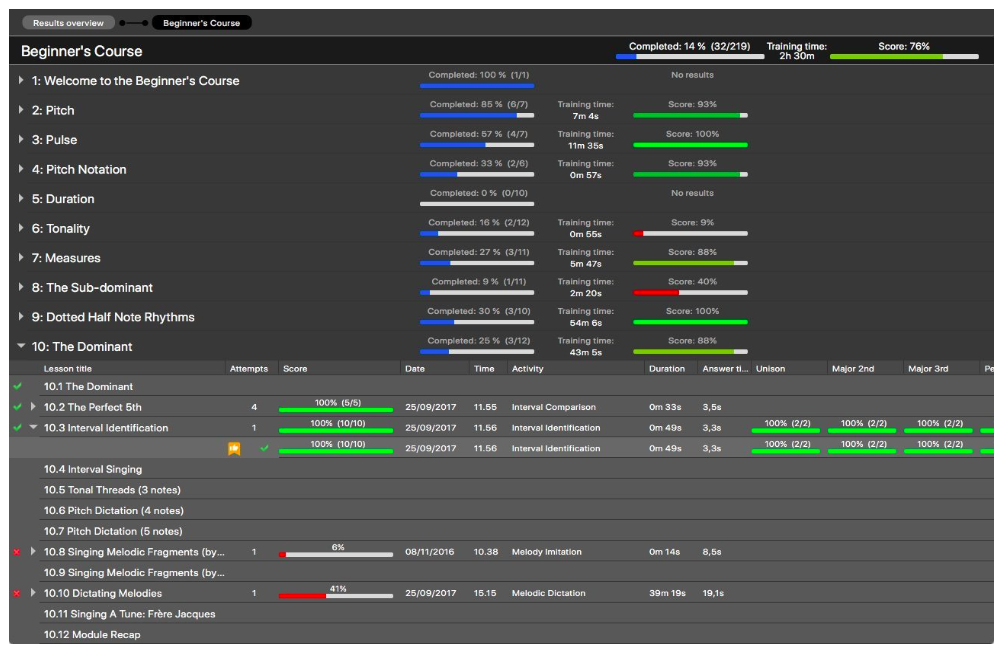 In another section, you can check your intonation by singing back notes, intervals and melodies. You will be shown, how accurate your attempt was.
Very useful are also the training sessions for rhythm and sight-reading.
Is Earmaster 7 Pro the real deal?
In conclusion, I think the danish boys from Earmaster have done a great job. Available for an almost ridiculous low price, starting at $2.99/month, this program should be on every musicians' hard disk.
As the name implies, you will have a tool to truly master your ears and your musicality. Regardless of your current musical level, Earmaster 7 Pro is suitable for beginners as well was for advanced students.
Benefit from a wide range of features
2.500 lessons
Interactive learning
Intervals, chords, rhythm, scales, melodies
Available for Windows and Mac
Multilingual (English, Spanish, German and many more)
Easy to use
So, don't think twice.
Get a copy of Earmaster 7 Pro NOW and turn yourself into a top-notch singer and musician.
Well, that's it.
I hope, that review was useful and if you have any further questions…just checkout the Earmaster website.

Yours truly
Felix Cerny