Product: Singorama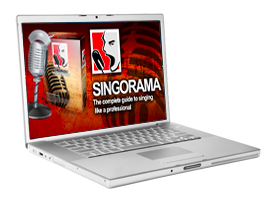 Price: $ 67.00
Format: Digital
Place to Buy: Singorama.com
Money Back Guarantee: 60 days
My Rating: 9 out of 10
Singorama, Product Overview
Dear aspiring singer,
If you would like to improve your voice and learn how to sing properly, you basically have two options:
First, hire a vocal coach.
Or second, train yourself using all the free information spread all over on the internet.
But wait… there's still one opportunity you should give closer attention:
Investing in an online singing course.
From the comfort of your home, anytime you want, anyplace you want. 
Sounds good, doesn't it?
One of the most acclaimed programs out there is Singorama. A complete singing method to get you from being a desperate wannabe singer… to a serious vocalist.
In this brutally honest review, I'm going to rip the Singorama singing course apart, and show you if this is something you should get your sweaty hands on…or not. 
Who is Behind Singorama?
Melanie Alexander is the name and face behind Singorama.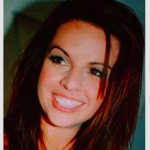 Not only is she a hot darling, but also a professional vocal coach.
Back in the day she also achieved some fame with her notorious Aussie girl group "Girlfriend". 
Well, quite franky…the only girlie band from the 90's I know are the Spice Girls.
But what does a regular dude from Austria know? 
Anyway, Melanie, together with some of her friends from the music industry, headed out and created Singorama.

With the intention "What worked for me, could work for others, too."
And you know what? She was darn right.
What Do You Get?
Well, a lot.
The Singorama course really is a complete vocal training that you'll get in chunks as downloadable audio tracks.
Every lesson is between 12-24 minutes long and backed up with (quite boring) theoretical knowledge. Okay, so I'm not so much that theory lover. But maybe you are. 
What's more exciting and really helpful, are the practical vocal exercises.
Melanie sings it for you and then you'll chime in. Just like if it was a real singing class.
You learn all the basic singing and breathing techniques every vocalist should have learned at some point in his career, but also get some lessons in musical theory (like key signature or time signature).
What's more, Melanie shares some insights about auditioning, songwriting and song interpretation.
From my experience, these are very important aspects of a singer's life.
Inside of the Singorama online course you'll find…
✔ 28 audio singing lessons
✔ All vocal exercises as bonus tracks (perfect for practicing)
✔ 3 original Singorama songs you can rehaerse on
✔ Bonus software (Pitch training, Record Studio and Jayde Musica)
✔ Singorama e-books
✔ scheduling tool
That's good stuff, bro'. But now you may ask…
"Is It Really Worth Buying?"
Okay, here's the uncomfortable truth: If you have the chance to see a good teacher, who knows his shyte, in person…forget about ANY online course and go for it. Take voice lessons once a week for at least 2-3 years.
But if you don't want to spend an arm and a leg…nor drag your tired body to your teacher's place every week…
Then Singorama is one of the best singing solutions which can teach you the fundamentals of singing… at a ridiculously low price…even cheaper than an average "offline" singing lesson.
Recently the price was dropped and you now can get it for only $ 67.00. With lifetime accessibility to a great evergreen singing resource.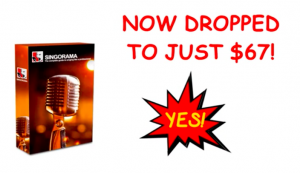 Who Should Consider Singorama?
After checking out every bits and pieces of Singorama, I think it fits best if you're quite new to singing. 
It will give you a solid foundation for getting started.
And hey, bear the money back guarantee in mind. You have 60 days to find out if Singorama sucks, or if it really can help you with being a better singer. 
To my knowledge, despite this generous money-back-guarantee, Singorama gets hardly any refund requests.
Anyways, if you're serious about learning this art…this is no drive-by thang.
You have to hang in there, practice regularly and watch your progress.
With what Singorama can support and accelerate you.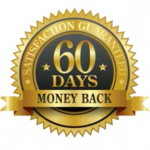 My Personal Assessment
I'm pretty honest here and I don't hold anything back.
I didn't learn singing with Singorama. But if I had discovered the offer when I was starting out…I'm pretty sure I would have given it a try.
I've bought useless singing programs in the past with hilarious technical advices. 
Singorama, in contrast, has a rock-solid, award-winning-singer-soaked methodology that also can make a complete beginner turn into a real singer…
If you put in the work and don't expect overnight-miracles.
All right, let's find out if its a good fit for ya:
Pros
✔ Fair pricing: $ 67 for a complete singing course is almost unbeatable, compared to similar products on the market.
✔ 60-days money back guarantee…no questions asked
✔ Rock-solid, bulletproof content: All that's been taught is a proper and healthy technique.
✔ Structure: The program is structured in a way, that everyone…even without the slightest experience in singing… can follow and complete the course
✔ Scope: Singorama covers vocal technique, breathing, musical theory, auditioning, singing on stage, setting realistic goals, interpreting and songwriting.
✔ Additional bonus software for eartraining and audio recording
✔ Easy to use: Plug and sing. Just download the audios to your smartphone or i-pod…and practice wherever and whenever you'd like to.
✔ Transparency: Singorama makes no false promises. You are advised to keep up the work and set realistic goals. Remeber: No singing course can make you an Idol overnight.
Cons
✔ No feedback: This is the only real downside of Singorama (as well as any other online singing course). Meaning, you get the exercises and instructions how to do it, but you never really know, if you're doing it right.
Overall Conclusion
If you desire to improve your singing voice, but don't want to spend hundreds..or even thousands…of dollars on a vocal coach, Singorama is worth trying.
It teaches you the essentials on how to sing properly. In fact, it comes along with much more. Stuff like: Music theory, songwriting, or song interpretation.
Everyone can see that the makers of Singorama have put a lot of effort into creating a comprehensive online singing course.
For such a low price of $ 67 you can now purchase a singing training that will lay the foundation for your vocal abilities.
If you want a kick-ass singing course, that provides you with the most essential exercises and help you improve vocal range, sound, intonation as well as skyrocket your performance abilities…don't to look any further pal.
Get off your butt and…