When I was a teenager, Karaoke became popular and every Friday and Saturday young aspiring singers climbed the stage for their unique versions of "Final Countdown" or "Take On Me".
As times changed, PlayStation's Singstar moved Karaoke singers from local bars to private living rooms. Now you didn't have to wait for another hour to get back on stage again. You just could sing as many songs as you wanted and also made a game out of it by competing against your friends.
The big internet revolution changed -or at least extended- Karaoke singing once again.
Today, you don't need to own a PlayStation with limited songs available. You can have it all.
Just turn on your laptop, open your browser and connect your mic.In the next paragraphs, I will show you, what sites you should look for and what they have to offer when it comes to singing Karaoke online.
Redkaraoke
One of the best sites around and my no.1 recommendation is Redkaraoke. They have an appealing layout and thousands of songs available – for free.
After free registration, you have different options. Firstly, you can choose between the karaoke version or to singalong with the original version. That's perfect, if you don't know the song off by heart and want to re listen before rehearsing.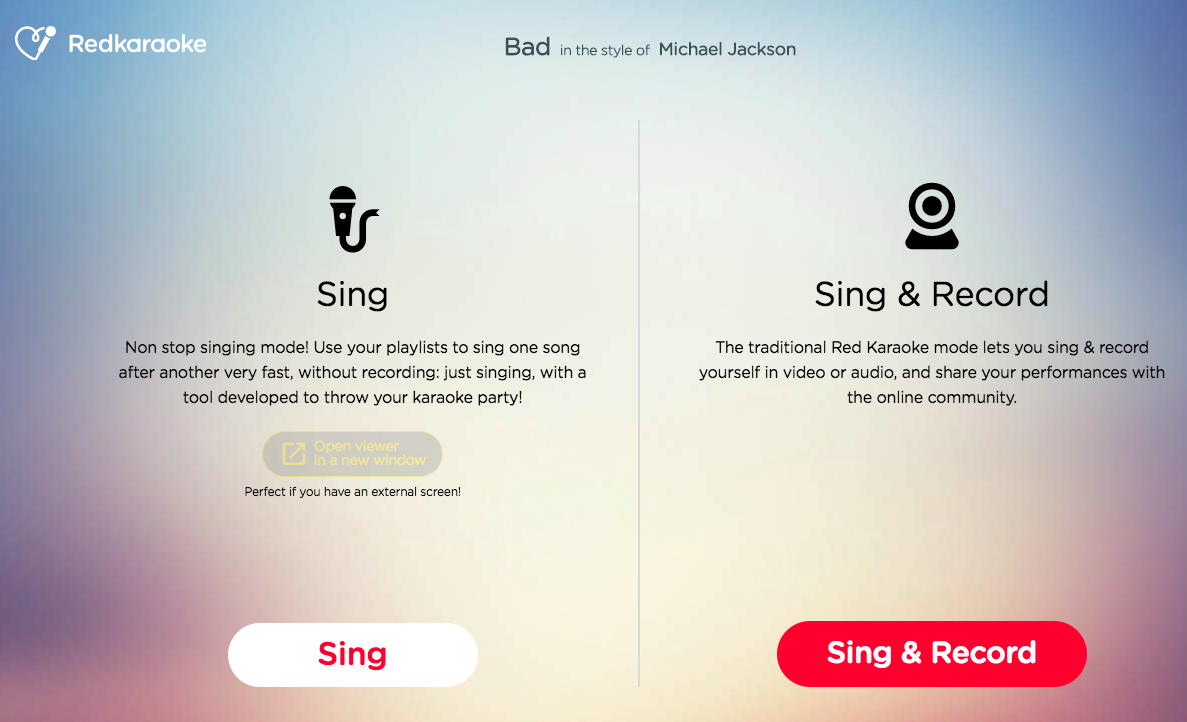 If you feel comfortable with your karaoke version, you can record and publish it on the site. So, everyone else can listen to it and rate it. The better your version is rated, the higher on the top you will appear, when somebody clicks on all available records of a certain song.
Moreover, you can mark your version as available duet version. Then, another user can record directly to your song and publish it.


You can also install the redkaraoke app on your smartphone and operate from here.
For better audio quality, I advise using headphones and an external microphone.
There are some minor benefits to the premium membership, e.g. to record your song as a video and some audio or video effects.
As much fun as it is to have a profile and compete with other users and generate followers, I personally would use the site merely for rehearsal reasons. It's perfect, if you want to prepare for an audition or practice songs for your cover band.
If your singing ambitions are a little higher than just making a fun out of having your karaoke versions put on a public site, then you wouldn't participate much in the social interactions.
–  Registration required: Yes
–  App: Yes
–  Free stuff: Almost everything, but only audio recording
–  Features:
  Karaoke vs. Singalong version
  Only sing vs. record
  Publish on redkaraoke site
  Duet versions
Premium membership:
– $ 7,99/month or $ 49,99/year
  – Features: video recording, audio and video effects, extended video promotion
Singsnap
When you first enter the Singsnap website, it looks a little outdated. But if you take a closer look beneath the surface, you'll soon discover that are much more possibilities for the users.
At one hand, singsnap provides a comprehensive help section, where you can get many tips, how to make the best out of this site.
You can also re-create the outlook of your personal profile with a variety of designs.
Moreover, there is an extra chat area, where you can either write with other users or join the open-mic room and perform your best songs.
When it comes to singing, you only have limited access to the song library. For most artists, you have 2-5 songs for free.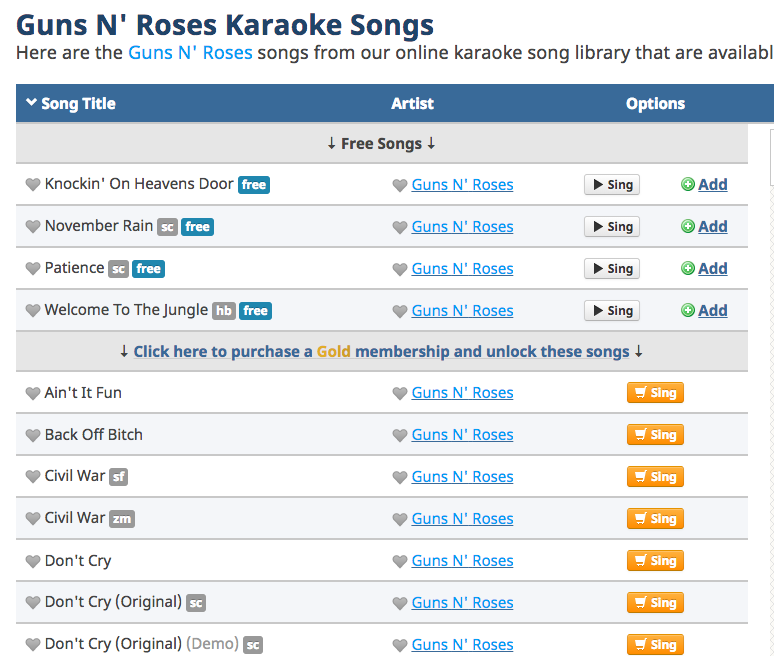 On the other hand, audio quality is good and there are many talented singers in the community.
It would make sense to perform duets and stuff like that here.
The interesting part of the membership, which comes for $ 11,99/month or $ 89,99/year, is that you can change the pitch of a song. So, before struggling with a favorite song that's just not within your vocal range, you can easily adjust it to your voice. And that makes singing much more fun.
– Registration required: Yes
– App: No
– Free stuff: Only singing, no recording; limited songs available
Premium membership:
– $ 11,99/month or $ 89,99/year
   – Features:
  Access to entire song library
  Recording
  Key & pith changer on every song
Smule
Smule is a little different, because it primarily works via the app. Meaning you can only sing using the app on your smartphone, but not on the website. I have to admit, the app looks very cool and is easy to use.
What Smule makes different is the fact that they hired some real superstars like Ed Sheeran, Seal, Kelly Clarkson or Sean Mendes to sing one of their songs over their app and record it like any other user. Their versions are uploaded, so you have the special chance to sing this song with your favorite artist as a duet.
That's pretty amazing and a very clever marketing strategy. I bet, there are many singers, who only subscribe to the full membership because of this unique opportunity. And maybe I would too.
The downside is, you can't do much without paying for the membership. There is a 7-day trial period, where you can try out some features and join someone else on their song versions, but that's all.
When I first looked up the membership fees on their website, it seemed pretty fair. But that was either a mistake or they forgot to update them. When I used the app, I got the real actual prices for becoming a member and they are much higher than on the other karaoke sites.
– App: Yes, basically it only works as an app. Website is for promotion.
– Free stuff: Not really, but you can use a 7-day trial
Premium membership:
– $ 21,49/ month or $ 106,99/year
  – Features:
  Unlimited access to entire song library
  Singing and recording
  No ads 
  Sing with the artist
Overall Conclusion
Karaoke singing has found a new home in the world wide web and re-defined itself. Today you can sing thousands of songs on one of the wonderful karaoke sites.
I took a deeper look at the Top 3  – Redkaraoke, Singsnap and Smule.
While every site has its specialties there are also some downsides.
You have to check out, which suits your requirements and goals best.
In the end karaoke is still as much fun online as it was in the local bar around the corner.
I hope you liked this post and welcome every comment to this topic.