Every musician, whether a singer, guitar player or drummer, knows the difficulties that come with playing live. One of the major challenges is, hearing yourself correctly throughout the stage noise.
A possible approach to that common issue is having floor monitors in front of you. However, you'd probably don't want to remain in the same position through the whole concert. Especially for singers, it's important to move around and entertain the crowd.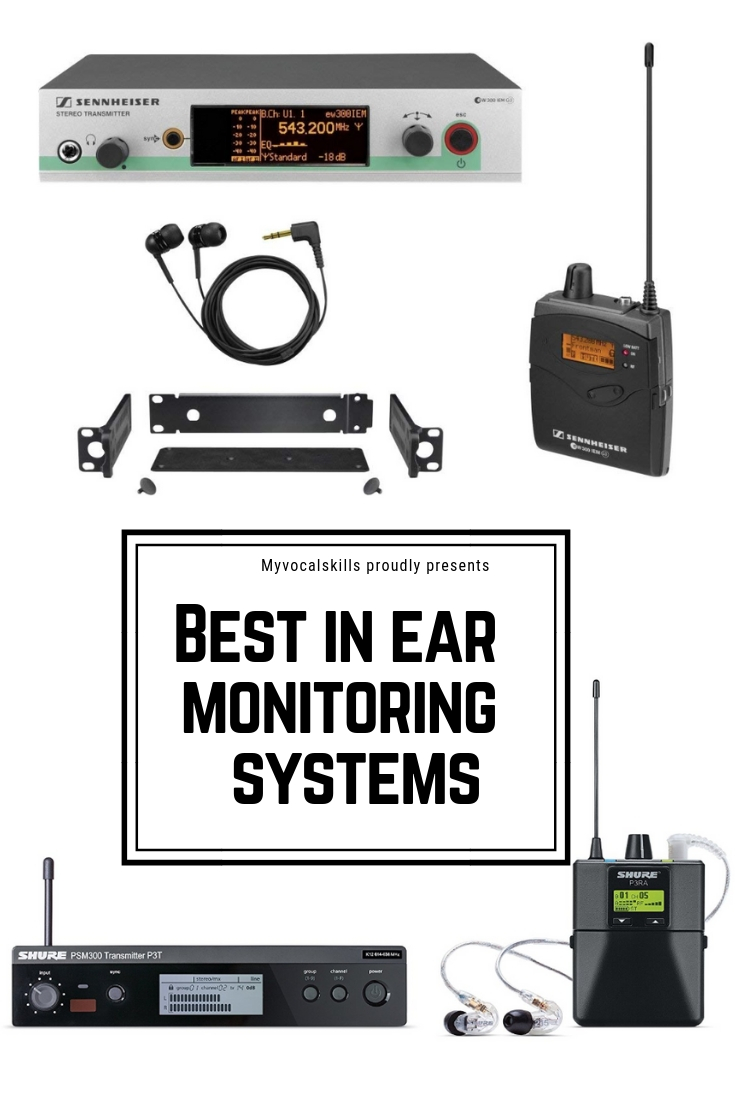 A perfect solution is to use an in ear monitor system. I know, there are some musicians, who hate it, but once I used it, the difference to a stationary monitor was night and day.
In this article I will review the best in ear monitors for musicians, currently on the market. You will find one for every budget and I'm sure, it will lift your live playing to a new level.
Stop relying on the mercy of the sound engineers' monitor mixes. A personal in ear monitoring can be a real game changer.
Shure P3TRA215CL PSM300 Wireless
Current price: $ 799.00
Where to buy: Amazon
Weight: 7.6 pounds
Dimensions: 18.5 x 14.6 x 4.5 inches
The Shure P3TRA215CL includes P3RA bodypack receiver, P3T transmitter and SE215CL earphones.
P3RA Wireless bodypack receiver
– A rugged and durable aluminum construction
– High-contrast LCD screen, which comes in handy on dark stages
– Auto channel scanning for a quick and easy set-up
– Shape the sound of your monitor mix with mix and volume level controls
P3T Half rack single channel wireless transmitter
– With a coverage, that extends over 300 feet (90 meters) of range
– One-touch IR sync instantly sets up frequencies
– High-contrast LCD menu with detailed L/R audio output meters
– Detachable antenna
SE215CL Sound Isolating Earphones
– Feature Shure's innovative MicroDriver technology
– Reproduce sound from 22Hz to 17.5kHz
– Include different adapters, for a perfect fit to block out 37dB of outside sound
Minor downfalls
– No XLR input
– Body pack batteries don't last long.
I recommend getting the SB900 lithium-ionrechargeable batteries
Summary
The Shure P3TRA215CL is a built to last IEM, that ensures the clearest sound, with ultra-low noise and no artifacts. It's easy to set-up and use. You get professional quality for a great price.
The benefits you'll get out of using the Shure PSM 300 are obvious:
– LESS STRAIN on your vocals
– IMPROVED STRUMMING and picking
Pyle Audio PDWMN49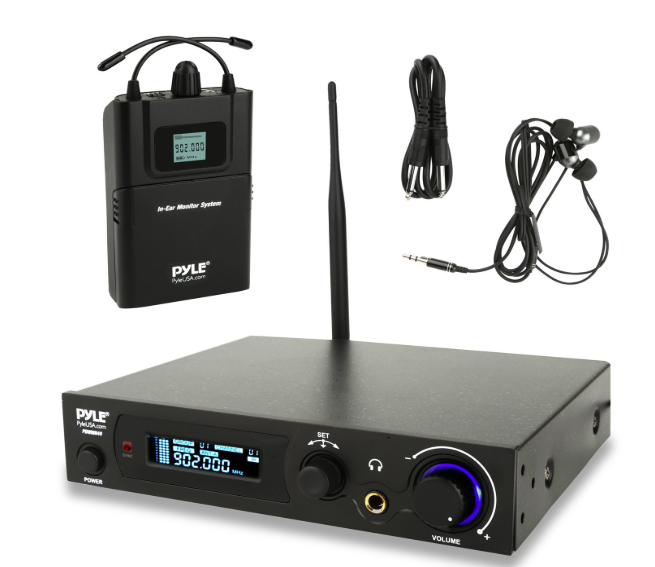 Current price: $189.99
Where to buy: Amazon
Weight: 3.65 pounds
Dimensions: 16.2 x 3 x 12.2 inches
Starting at the lower entry level, the Pyle Audio PDWMN49 are an affordable IEM, that just gets its job done.
Compact and Wireless
– The Pyle wireless in ear monitor and receiver system offers tabletop stage monitoring with a wireless range of up to 330 feet.
– Can be use it in the studio as well as on stage.
– The kit includes an audio system transmitter, a digital belt-pack receiver, and in-ear headphones.
Pros
– Simple controls for hassle-free operation
– Selectable audio frequency to optimize your sound
– 100 different channels
– Frequency range of 902-928 MHz, this professional quality item system operates perfectly in both a studio and stage environment
– Reliably consistent signal quality wherever you move
– Batteries seem to last about 8-10 hours
– Attractive price, which is just a fraction compared to other systems
Cons
– It's not built like a tank
– Stock earphones are pretty crappy, just change them with any other earphones asap
– The receiver is of cheap material
Though, the Pyle is no high-end, fancy IEM, it is a good choice, if you are low on budget. It's functional and does, what it has to do. Make you hear better when you're on stage.
Sennheiser EW 300 IEM G3
Current price: $999.95
Where to buy: Amazon
Weight: 22.7 pounds
Dimensions: 17.8 x 2.9 x 14.7 inches
The Sennheiser EW 300 IEM G3 is simply the best wireless system you could get for this price. German designed and American built it offers even more features, that you will ever get to use.
Features
– 1680 tunable UHF frequencies for interference-free reception
– Auto scan
– Pilot tone squelch feature for eliminating interference when transmitter is turned off
– Enhanced frequency bank system with up to 16 compatible frequencies
– Automatic frequency scan feature searches for available frequencies
– Ethernet port for connecting to the Wireless Systems Manager (WSM) software for control via computer: delivers a good overview of monitoring and professional data management for multi-channel systems
– Integrated 5-band graphic Equalizerin transmitter for adjusting sound
– HiBoost, adjustable limiter to avoid peaks in volume
– Stereo/focus mode, balance in receiver
Pros
– Easy to set up system
– Great stereo image and separation
– Gain availability in is more than anyone would need,
– Superior options of digitally adjustable levels, HF emphasis, EQ availability
– Fine sound and the options available with this transmitter/receiver pair are obviously superior. I am thinking here, and very fine sound quality.
– This awesome, high quality IEM comes for a respectable price
Room for improvement
– The earbuds are decent, although customs will make this system shine
There's no doubt: If you want the best in this price class, you should look no further.
Conclusion
If you are any serious about your live vocal performance, you can't get around of owning an in ear monitor system. Once you get one of these babies, you will never go back.
There are currently some excellent products on the market. If you just start out with little money Pyle Audio PDWMN49 will be your first choice. More advanced performers will be more than happy to work with the incredible Shure P3TRA215CL PSM300 Wireless. If you want the best deal under $ 1.000, you should set out for the amazing Sennheiser EW 300 IEM G3.
Hope you have a clearer picture now, which IEM works best for you.
Let me hear what you think. What are your own experiences with in ear monitors? Did I leave out your favorites?
Rock the stage
Felix