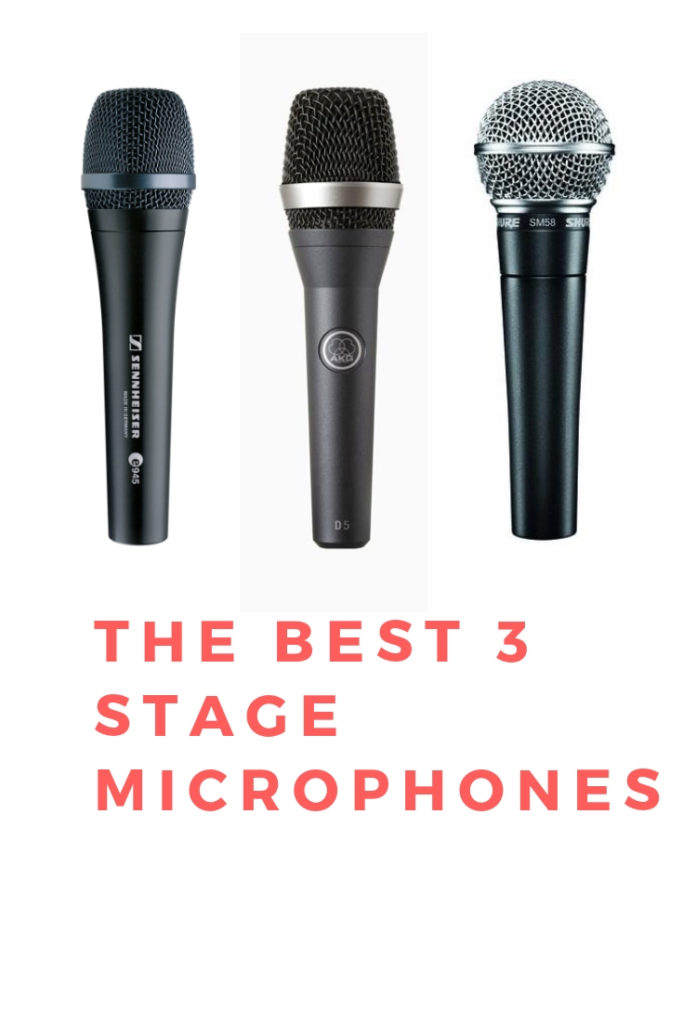 There's a time in every singers' career, where he no longer favors the protection by the noise of his band mates when playing live. The better your voice, the more you want to be heard.
Dealing with cheap mikes will no longer do justice to your vocal abilities. It's time to hit the store and get the real deal. The amazingly good news is, that you don't have to give the last shirt. You will get literally world-class live mics for a reasonable price.
In my review I will share 3 top stage microphones you just can't resist.
Learn more and be surprised, what you'll get for your money.
Sennheiser e945
The e 945 is a dynamic super-cardioid lead vocal stage microphone, which is powerful and rich in detail. Super cardiod means it cuts out a lot of background sounds and reduces feedback as well. The design is solid with a comfortable, dark blue grip.
The Sennheiser e945 is made for the working musician it guarantees excellent sound results.

Features
– Metal construction – solid and longlasting
– Shock-mounted capsule – Low sensitivity to impact and handling noise
– Hum compensating coil – Reduces interference
– Dimensions: 47 x 186 mm
– Weight 365 g
– Connector: XLR-3
– Frequency response: 40 – 18000 Hz

Characteristics
– With the e945 you hear everything – it's a perfect choice for experienced vocalists
– Ideal for desired cut through vocals
– It delivers a clear, warm and detailed sound
– You hear all pronunciations and high notes precisely
– Delovers a transparent and thick voice
– Any singer can feel confident in the quality of their gear while using this microphone
– It perfectly fits for both live performances & studio recording
Artists using Sennheiser e945: Ed Sheeran
Current Price: 219.95 $
Where to buy: Amazon
Shure SM58 – "The Legend"
If it wasn't for the personal taste of each singer, I would simply suggest going for the SM58. With a supreme quality proven over decades and still leading the industry standard, you can't go wrong with it.
This dynamic cardoid mike is a reliable and robust partner available at an insanely cheap price. It is also the standard live microphone used in most clubs.
Features
– Frequency response ideal for vocals, with brightened mid range and bass roll off
– Cardioid pickup pattern for minimum background noise
– Pneumatic shock-mount system which cuts down handling noise
– Effective, built-in wind and pop filter
– Cardioid (unidirectional) dynamic
– Frequency response: 50 – 15,000 Hz
– Weight: 480g
Characteristics
– Solid and proven performer
– Rugged
– Don't even have to use a windscreen
– Rounded off on the high end
– Easily handling plosives
– Lasts forever
– Works for vocals and instruments
– Best allrounder
Artists using Shure SM58: U2, Mick Jagger, Led Zeppelin, AC/DC, Bruce Springsteen, The Who
Current Price: $ 99.00
Where to buy: Amazon
AKG D5
The AKG D5 is another solid, beautifully sounding live and studio microphone, that comes with the lowest price compared to SM58 and e945.Here we have a supercardioid dynamic vocal microphone with a laminated varimotion diaphragm and a shock mounted capsule for low noise.
It has a clear mid range and a smooth top end without being harsh.

Features
– Frequency bandwidth: 70 – 20000 Hz
– Sensitivity: 2.6 mV/Pa
– Electrical impedance: 600 Ohms
– Recommended load impedance: 2000 Ohms
– Polar Pattern: Supercardioid
– Dimensions: 185 mm x 51mm
– Weight: 320g

Characteristics
– Rejection of ambiance is one of the major strengths of this mic
– Wins in clarity with a more natural, crisp and a more detailed sound than SM58
– Feels comfortable on the lips as there is an indented grill
– Feels solid as steel in the hand
– 6db extra gain before feedback when compared to the cardoid SM58
– Specially suited for male voices as benefiting from the additional clarity
– Excellent Sound Pressure Level (SPL), which means you can sing real close to the mic without distortion on powerful notes.
Artists using AKG D5: Sepultura
Current Price: $ 89.00
Where to buy: Amazon
Conclusion
With the Sennheiser e945, the Shure SM58 and the AKG D5 there are 3 excellent stage microphones on the market. While I can highly recommend all of them, it's only in the singers' personal taste, which one he likes best.
For me it's so unreal that you get an affordable microphone, that's also been used by superstars. No need to stick to your plastic toy – get a real mic and rock the stage!
I hope you found this review useful. As always, I would love to hear your opinion.
What's your favorite microphone? And why?
Sincerely
Felix