I admit, I haven't always been a follower of Queen. Although growing up with their music all around on radio and TV, it didn't really touch me on a deeper emotional level.
It was in my twenties when I ordered a bunch of "live in concert" DVDs. Among them was "Queen – Live at Wembley Stadium". There was this great arranged intro, where you see people gathering for the show, music is getting more and more intense then suddenly stops and you hear Brian shredding the first notes of "Tie your mother down". There's smoke all over the place and suddenly Freddie enters the stage. Energetic, playful and demanding. Immediately the whole stadium is on fire.
I still get goosebumps, when I even think about it. This scene, as well as his whole performance on this night turned me instantly into a Queen and Freddie Mercury hardcore fan.
From this moment on, I've absorbed everything I could find from Freddie, read some books and got a clearer picture of the lovely person behind the probably best rock singer of all times.
In this Freddie Mercury biography, I will shed a light on his most important stages of life and share my point of view about his secrets to success.
From India To London
Born on the 05.09.1946 as Farrokh Bulsara in Zanzibar, Freddie spent most of his childhood in India. He learned to play the piano by the age of seven and made his first musical experiences in a boys' choir.
When he was 17, his family had to flee due to the Zanzibar revolution and eventually found a new home in Middlesex, England. Freddie enrolled at Isleworth Polytechnic and studied art in West London.
Aiming for a music career, he joined a couple of bands, but repeatedly left them, when he saw no chance of succeeding.
To make a living, he ran a second-hand store with his former girlfriend Mary Austin.
One day, he met Tim Staffel, who back then were the singer of a band called Smile. Smile was formed with fellow student Brian May and later on Roger Taylor came on board for the drums. As they had a similar taste in music, Freddie and Tim got along together quite well and Freddie became a follower of Smile.
Queen – From Zero To Hero
When Tim left Smile due to lack of perspectives ("I didn't see us heading anywhere"), Freddie instantly applied for the job as the lead singer. Although Brian and Roger ("Freddie sounded a bit like a sheep, when we first met") had their doubts, they gave Freddie the chance. At Freddies insistence Smile was soon renamed to Queen.
Anyways, not everything happened as fast as the four (John Deacon completed the group) guys wanted it. The first demos were rejected by record companies (great job done by the talent scouts) and Queen had to proof patience and persistence.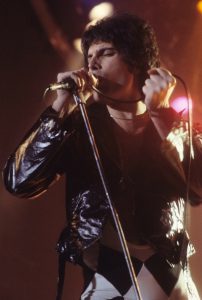 Still making his living from his second-hand job Freddie was starting to lose patience as he didn't see fame around the corner. But Queen kept playing the club circuit and things started to move in their favor.
While the bands eponymous debut album was well perceived but poorly sold, already with Queen II they hit the UK album charts.
Queen climbed the ladder of success and with their 4th album "A night at the opera" featuring mega hit "Bohemian Rhapsody" they eventually took off and broke through to international popularity.
What followed is legendary. Anthems like "We Will Rock You" or "We Are The Champions" are still played at thousands of sport events. Queen were also well-known for their enormously creative music videos, shot and produced by my countrymen DoRo.
Queen were on fire and the only thing finally could stop them was out of their hands. Freddie was a magnificent singer, artist and a true world star.
Freddies 3 Best Assets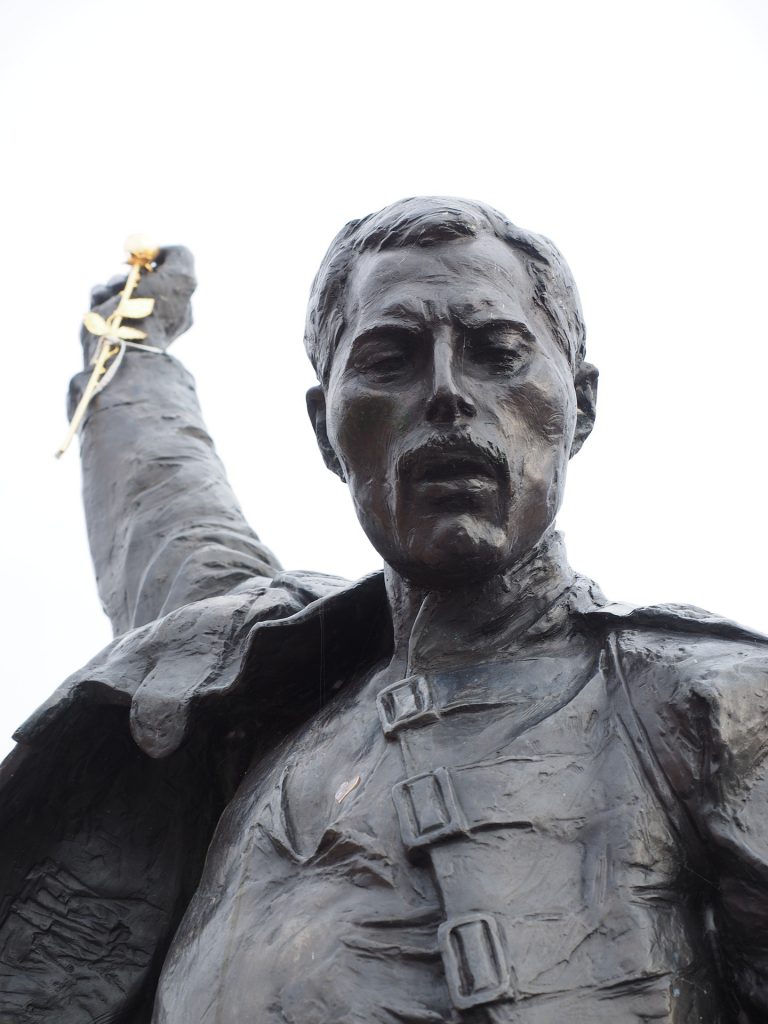 1. Voice
What can I say about Freddie Mercury's wonderful instrument, that already hasn't been discussed a thousand times before? First off, his voice evolved prominently over the years. When you listen to the first albums, you can hear a singer with a very light voice.
His register change has always been flawless, meaning he had an excellent mixed voice. As he grew older, he developed a more manly and powerful singing style. If you watch the "Queen – Live at The Wembley", you'll know what I mean.
Although he primarily sang in a tenor range, some claimed him to be a baritone by nature. Anyways, his tessitura was uncommonly high for a pop singer. You only have to watch the "Freddie Mercury Tribute" concert, where almost all star singers -except for George Michael (stunning interpretation of "Somebody to Love") and Axl Rose- failed to properly perform Queen songs.
2. Perfection
What probably not everyone knows is the fact, that Freddie was an obsessed perfectionist. I've heard stories about pushing his voice to the utmost limit for some songs in the studio, so that he couldn't keep up with the recorded version when performing live. I also saw a rehearsal video, where he worked so hard on getting everything as perfect as could be.
Another story is, that he took on ballet classes to fine tune his movements and postures on stage. You see, Freddie thought everything through and didn't merely rely on his voice.
3. Communication
One of the reasons of his immense popularity was his talent to connect with the audience. I recently wrote about How To Become a Successful Frontman and a key skill is to be able to catch your audience. Freddie had this ability in a way I've never seen before or after. His charming personality shone through at every opportunity ("I can tell you, their are some beauties here tonight") and you could tell, he really loved his audience.
Success Facts (with Queen)
– 18 number one singles
– 18 number one albums
– Over 105 million copies sold
– 4 times Brit Awards Winner
– A Star on the Hollywood Walk of Fame
– Inducted into Rock and Roll Hall of Fame
– Inducted in the Grammy Hall of Fame with Bohemian Rhapsody, We Will Rock You and We Are The Champions
– Inducted in VH1 Rock Honors
Epilogue
As a singer, Freddie Mercury will always be a benchmark. As a human he will remain irreplaceable.
I hope with this post I could make a contribution to never let us forget about Freddie Mercury and everything he has done for pop history as well for our personal lives.
Yours sincerely,
Felix