For some people, singing on key is something out of their world, while others couldn't sing a wrong note, even if they wanted to.
While it sometimes can get really frustrating, if you finish a song in a different tune than you started it, you have to see, there are some proven ways to improve this important skill.
I have written an article about the phenomenal and sustaining effect of ear training. You can also find some more detailed information in my product review of Earmaster.
But what if I told you, that I know a magic trick to help you improve singing on key immediately?
Too good to be true, isn't it?
Probably.
But before further judgment let me introduce you to this scientifically backed-up technique to learn how to sing in tune instantly.
Let Me Tell You A Story
Back then, when I studied with my second vocal teacher, I always struggled with keeping the right tune.
It felt like my singing system was somehow aslope.
Singing along with music, I did okay, but when I tried a capella, I often ended up flat or sharp.
One day, my teacher let me do something before and in between singing a song, that changed it all in a minute.
When I applied that trick, singing felt totally different to me.
Not only did my tune improve dramatically, so did other vocal skills like coloratura or improvising.
I suddenly sang improvised melodies, I never used before.
I recorded that lesson, so I could listen back to it and would confirm, that what I felt was really true.
Before and after was like night and day.
Try It Out For Yourself
I guess, you're already bursting with curiosity, so I don't want to put you on the rack anymore.
What did my teacher tell me in this important lesson?
Here it goes. She actually did two things:
1) I should stretch my right arm forward with thumb up. While keeping that position, I should then draw the a lazy 8 in the air and keep my eyes on my thumb. While doing so, I should start to sing.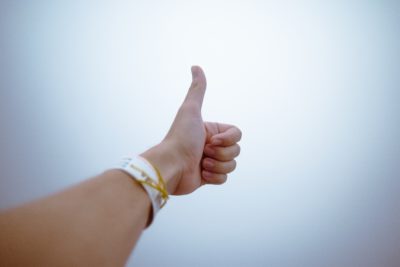 2) She drew a line on the floor and let me walk on that line while singing. When reaching the end of the line, I turned around and continued walking back.
Before I share some insights about what secret lies behind this simple training method, stand up and try it out for yourself.Observe not only your pitch, but also how singing feels this way.
Is anything different? Better? Maybe you feel a bit out of control?
Balancing Your Hemispheres
As some of you might know, our brain consists of two halves – the so called hemispheres.
To put it simple: The right hemisphere is connected with creativity, the left hemisphere is connected with logic.
None of the "two brains" are better than the other. You could assume, that artists are more right-brained, while mathematicians are left-brained.
But please bear in mind, it also needs a good portion of creativity to be a great physicist – just think of Albert Einstein.
And it definitely helps, if you are an artist, who puts a good structure to his work.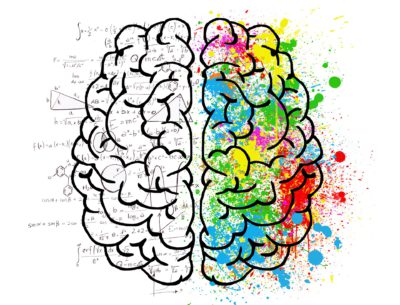 In everyone of us, one side of the brain is more dominant, although ideally both hemispheres should be balanced or synchronized.
If you work towards a balanced brain, you will see results in much more areas than singing on pitch.
Only to mention a few you will experience….
– More creativity
– Even temper
– Enhanced clarity and focus
– Strong determination
Exercises For Brain Synchronization
To benefit long-term, you have to train your brain regularly to sync properly.
Fortunately, the exercises are done quickly and you can easily integrate them into your daily schedule.
Besides the two examples, I already mentioned, I would recommend doing the following:
Actively
– Draw circles
– Draw lazy 8s
Note: Take a piece of paper (format A4) and draw one line of circles clockwise, the next one counter-clockwise. Do the same with the lazy 8s until the paper is full.
Note: I regularly fall asleep, when I listen to brain synchronizations tracks. But that's totally okay, because the brain is still being trained without me standing in the place.
Conclusion
Brain synchronization is a great technique to get your brain balanced.
One of the multiple effects is improved pitch singing.
As it works pretty fast, you can see instant results within the first exercises.
Combined with singing, you will literally hear (and feel) how you can benefit from balanced brain hemispheres.
Try it out for yourself and discover some kind of magic.
I'm excited to hear about your findings.
Yours sincerely
Felix