Once you decided to shoot your own music video, it's time to get a video camera that fulfill all needs for your shooting. I've got to say that there is really good stuff on the market also for beginners and low budget productions.
After having done some deep research and picked out 3 amazing cameras for music videos for you.
Panasonic V180K
This full HD 1080p handheld camcorder is a great entry camera. It's compact, lightweight power pack that's comfortable to hold. If you are looking for the best deal under $ 200.00 then look no further. It's definitely the best price/quality ratio and serves very well.
Panasonic V180K Highlights:
The Optical Zoom: Among users, the amazing 50x zoom really sticks out. That is something like 1650mm equivalent which gives you a tight headshot at 200ft.
Video quality (good lighting): The Panasonic V180K shoots in crystal clear quality. In a daylight scene it can be hard to tell the difference between it's footage and a $1,000 DSLR with a good lens!
The battery lasts forever
Easy handling due to a simple design with not a whole of of buttons
Price: I highly doubt that you can get anything better for this insanely cheap price.
Currently, you can purchase the Panasonic V180K for $197 at Amazon.
Some minor downsides:
The LCD is a bit cheap and grainy
When shooting indoor and/or with bad lighting, the clarity is poor. A simple solution here is to use additional soft box lighting, that should be standard for intended video shooting.
Some say, that the usability is too complicated. In fact, you'll be amazed, what the camera can do. Just go online and download the full user manual from Panasonic.
There are also different opinions about the internal microphone and its audio quality. For music videos, though, you will never use this function.
All in all, I can highly recommend the Panasonic V180K to everyone, who wants to get started and has to keep his costs at a lower level.
Current price: $197.99
Where to buy: Amazon
Panasonic lumix fz80
This easy to use point and shoot camera can be much more beneficial to you than only creating music videos. As a musician or band it has become vital to also deliver good photographs on a regular basis to share on social networks or put on your website.
With the Panasonic lumix fz80 you hold both an excellent photo and video camera in your hands. This small compact allrounder still comes for an unbelievable attractive price.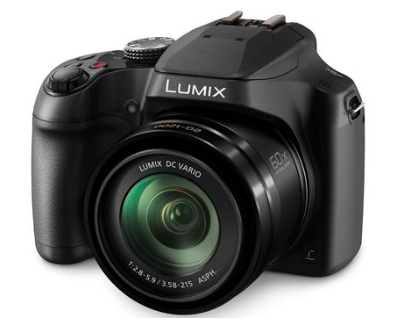 Panasonic lumix fz80 highlights:
The LUMIX DC VARIO lens is super wide, and it is respectably sharp even when zoomed fully. the 20mm wide angle is very useful for interior shots. The extended 60x zoom makes close up photography a slam dunk.
Great quick auto focus enables fast and accurate focusing. High resolution 1,170k-dot viewfinder, as well as a touch enabled LCD display. In camera special effects that allows setting the focusing point after the shot has been taken. Moreover, the camera even records RAW files.
It records great footage in 4k. The 4Kvideo mode captures up to 4X the resolution of standard Full HD. 18.1MP sensor resolution with surprisingly good dynamic range.
Some downsides:
It takes some time to get to know how to use its features
Bad in low light (pretty normal with cameras with small sensor and small/cheap processor).
No live video output. The camera will only output prerecorded footage or photos.
No continuous video recording; it will stop at 4 GB or close to it (which is only an issue when live recording)
To sum up, even if you're an amateur photographer, you will be able to create excellent photographs and footage without having to use extensive camera gear including monstrous lenses.
Current price: $327.51
Where to buy: Amazon
Canon XA11
If you are willing to put an additional $1.000 on the table, you will make a jump to a true professional video camera. Sure, it's up to you, your experience and your level of shooting frequency.
Nevertheless, the Canon XA11 is such a beast in a small camera. It has tons of features for fine-tuning. It is a compact camera, but packs a major punch.
Canon XA11 highlights:
Advanced HD CMOS Pro Image Sensor with Improved Low-light Performance. A low-luminance noise rating of +3 dB allows capture of clear images with incredible detail even in low light. Auto white balance for indoor shooting is great.
With the Canon XA11 you can record in full HD resolution in both AVCHD and MP4 recording codecs, at multiple bit rates, and even simultaneously. The video quality is top-notch. The Wide DR Gamma and Highlight Priority modes help ensure a natural range of tones and colors for realistic and eye-catching results.
Two XLR terminals mean sophisticated and convenient audio recording on two separate channels. 20x HD Zoom Lens that provides a highly versatile zoom range with 35mm equivalent of 26.8–576mm
While many advanced cameras are pretty complicated, the Canon XA11 is easy to set up and get started filming.
Current price: $1.299
Where to buy: Amazon
Wrap Up
The variety of available video cameras, appropriate for shooting music videos is phenomenal. Also, having marketplaces like Amazon to look at can be of great help, when you research other people's opinion about a certain product.
I have found 3 really good cameras for every budget and level of proficiency.
When starting out brand new, with literally no experience, I would recommend going for the Panasonic V180K or the Panasonic lumix fz80, which is also a great camera for regular band photographs. Both are high quality video cameras, if you just take care of good lighting conditions.
If you are already more experienced and/or want to level up to a professional, still very compact camera then the Canon XA11 may be your perfect fit.
I hope you did like my review and recommendations.
Please share your opinions and join discussions about video cameras and filming.
Sincerely,
Felix